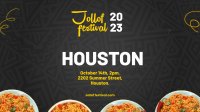 Nigeria won the first edition of the Jollof Festival in Houston, but our Liberian cousins insist it was daylight robbery! 
Houston, who makes the best Jollof Rice?
Jollof rice is a one-pot rice dish native to many countries in West Africa. Some consider it the predecessor to the cajun dish, jambalaya.
The experience of the Jollof Festival focuses on the pride West Africans exude in their native dishes.
Festival participants not only get to enjoy these foods, but get to interact with the festival itself by voting to determine the winner of the "Jollof Wars," a head-to-head battle that pits one representative from each country against each other for the title of Best Jollof Rice.
Sample Jollof Rice dishes in a festive blind-tasting, and vote for the best one at the Jollof Festival Houston!
PREVIOUS EDITIONS:
Visit our YouTube Channel for Past Festival Editions: 
http://bit.ly/jolloffestatl18vide  
*Prices subject to increase
*All tickets sold are final
*This event is rain or shine
*In case of cancelation due to inclement weather, a rain-date will be announced per venue rain-date availabilities, and there will be no refunds whatsoever. 
*Schedule subject to delay, or change
*All health and safety protocols will be encouraged and observed. 
* All attendees are encouraged to stay at home if they observe Covd related symptoms
*All pictures, videos taken at this event are copyrighted by @Jollof Festival and can be used by the festival per our discretion 
*Participating performers, vendors, chefs and restaurants can be cancelled, changed or scheduled as the festival sees fit.
Follow us on Social media or keep an eye on our site for updates:
IG: instagram.com/jolloffestival
FB: facebook.com/jolloffestival
TW: twitter.com/jolloffestival