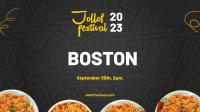 After a cool win by Ghana last year for our first Boston event, we are back again this year, and we cannot wait to see which country will shine! We are bringing the tasting experience right into the Boston area to make it accessible and fun for all our guests. We cannot wait!
Jollof rice is a one-pot rice dish native to many countries in West Africa. Some consider it the predecessor to the cajun dish, jambalaya.
The Jollof Festival is a day-long celebration of the many variations of this dish, unique to the various West African countries that consider it a staple.
The experience of the Jollof Festival focuses on the pride West Africans exude in their native dishes.
Festival participants not only get to enjoy these foods, but get to interact with the festival itself by voting to determine the winner of the "Jollof Wars," a head-to-head battle that pits one representative from each country against each other for the title of Best Jollof Rice.
PREVIOUS EDITIONS:
Re-cap: ATL Jollof Festival http://bit.ly/jolloffestatl18video 
Re-cap: NYC Jollof festival https://youtu.be/Z4s-K0C6bfE 
Re-cap: DC Jollof festival https://youtu.be/htc4cOxXkCA
Participants: Ghana, Nigeria, Liberia, Sierra Leone, Senegal.
*Prices subject to increase
*All tickets sold are final
*This event is rain or shine
*Schedule subject to delay
*All health and safety protocols will be encouraged and observed. 
* All attendees must wear their masks and are encouraged to stay at home if they observe Covd related symptoms
*All pictures, videos taken at this event are copyrighted by @Jollof Festival
*Participating performers, vendors, chefs and restaurants TBA
Follow us on Social media or keep an eye on our site for updates:
IG: instagram.com/jolloffestival
FB: facebook.com/jolloffestival
TW: twitter.com/jolloffestival